RESURFACING FOR A MOMENT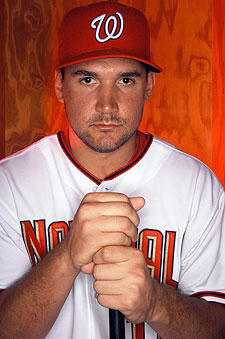 [July 20th] -- Okay, I haven't posted for ... um ... gee, I dunno, half a season or so? The time off - not having to look under every rock for a baseball boogie man - has been joyful. That said, that doesn't mean that I haven't cared about the team like I have in years past.
It seems that this year has also taken its toll on Nationals' bloggers. Many in my rookie class ('05) have gone dark so I wasn't the only one to walk away this year.
You know, it's funny; you itch to blog when you're not, and wish you didn't have to when you are.
On to baseball.
The Nationals are doing very well this year. Really. They are currently 36-61 and are 17 games out of first, 11.5 games out of 5th place. Throughout the mainstream media, the Nationals are being pummeled for being the worst team in the National League.
Well, sure they are.
But a healthy team - in my 45 years of watching baseball I have never seen more injuries to a single team in a single year - would easily have another ten wins, and a record of 46-51 seems about right for this team at this point in the year.
All of the injuries have helped the team immeasurably. We now know that Jesus Flores, Elijah Dukes, Lastings Milledge and several young pitchers can play at the major league level now. Young players have been given the opportunity to play every day and some have shown promise while others have not. We now have a better idea about our top forty or so players than we did in spring training. We'll also get - let's say that current standings are the final ones - the top pick in the 2009 amateur draft. From 1990-2001, 9 of the 12 number one picks (Chipper Jones, Alex Rodriguez, Darin Erstad, Kris Benson, Phil Nevin, Pat Burrell, Josh Hamilton, Adrian Gonzalez and Joe Mauer) have had quality careers (though Hamilton is starting late) and so one would think that the Nationals have a good chance to come away with a star. The players selected after 2001 haven't had enough time to prove themselves, though Justin Upton and Delmon Young sure seem to be on their way.
The point is, the Nationals could have the top pick next year and still be a few games over .500 thanks to all those injured players returning next year.
A couple of injuries might have - in the long run - helped the Nationals more than they hurt. Certainly, the team would have been much better with Nick Johnson, but I think Jim Bowden has finally come to the conclusion that the Nationals can't count on him any more and will look elsewhere for a starting first baseman in 2009 regardless of the year remaining on his contract or potential interest from other teams.
Also, Nationals' fans - and some within the organization - have questioned Chad Cordero's ability to be a major league closer and have thought that Jon Rauch could do a better job if given the opportunity. This year - Rauch's first as a closer - he's allowed just 41 hits in 47 innings while walking 7 and striking out 43. Take from all those numbers that he's allowing just 1.01 runners per 9 innings while striking out 8.1 and walking just 1.39. Compare that to Cordero's numbers last year when he allowed a whopping 1.39 runners, 7.4 strikeouts and 1.39 walks per 9 innings.
That said, Cordero saved an average of 37 games from 2005-2007, so though his internal numbers aren't great, he's still a quality closer. That means that the Nationals will be able to trade one of their two closers this winter for a bat (it'll probably be Rauch because Cordero will have to prove that he's healthy, and that takes time).
It's been a tough year, but a productive one, for the Washington Nationals. I believe that if the core of Jesus Flores, Ronnie Belliard, Cristian Guzman, Ryan Zimmerman, Elijah Dukes, Lastings Milledge and Austin Kearns return in 2009, stay healthy and produce as expected (and the team finds an answer at first), the Nats will have an offense that'll rank in the upper half of the National League. I also think that the Nats' starting pitching will be very solid if they sign one star or near star pitcher as their top starter and then fill out the rotation with John Lannan, Jason Bergman, Tim Redding and one of the kids (I'm not counting on Shawn Hill anymore).
How good could the team be? If the law of averages finally smiles upon the Nationals (fewers injuries, more career years by the players), the Nationals could win 85-90 games.
I'm not counting on it, mind you, but I'm thinking the talent is there is someone takes all those pins out of the team's voodoo doll.
Comments:
Glad to see you are still "in biddness" (as they say in and around old DC).
Do you still have the isu e-mail? I need to send you a note.
Hey Farid
Please explain how the photo of Derek Norris taken by me got on this article without my permission and someone else getting credit for it.
http://bleacherreport.com/articles/183075-derek-norris-leapfrogging-rest-of-nationals-prospects-on-way-to-thetop
Its hard to get along when u're using my photos and giving someone else credit for it.
I await your reply.
Bob Hovey
rhovey@cox.net
Hovpen.rivals.com
Post a Comment
Links to this post:
<< Home