MORE OF THIS AND THAT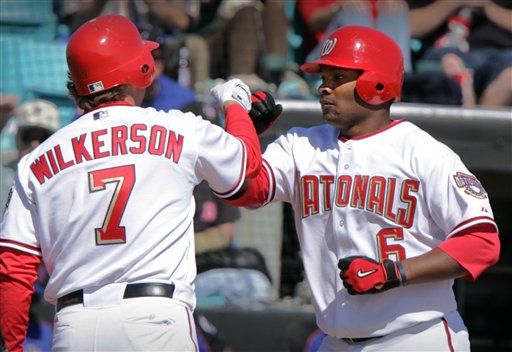 [October 8
th
] -- We have entered the
"black hole"
of baseball. It's kind of like being on the far side of the Moon and wanting to call Mission Control. From now until the end of the World Series, all major league teams remain silent in deference to Bud Selig's
"Don't upstage the playoffs with news or hires"
mantra. That, and the fact that the free agent swap-meet doesn't start until the day after the World Series ends, makes it for a very dull few weeks.
That is, if your team isn't in the playoffs.

So I thought today would be a good time to talk about "stuff," things that caught my eye but I never got around to talking about it.
And we're off .....
Now, the above photo of
Brad Wilkerson
and
Jose

Guillen
, taken during Spring Training in 2005, doesn't mean much other than I think it's a great picture (does something on the uniform look a little different other than the patch?). I found it on "
llamabutch
ers.nu.mu," which is kind of strange in and of itself. It's obvious that Stan and Jim aren't going after name free-agents this winter, but what about "plan-B" types like former National Brad Wilkerson?
Kasten
has recently said that he won't overpay for top tier free agents, and that the other guys probably aren't going to help the team in any significant way (and we'd have to overpay to get them too). But what about Wilkerson, a former franchise favorite? In two injury plagued years in Texas,
Wilky
has hit 35 homers in 700 at-bats, but other offensive indicators don't look as good. He would come cheap and he'd likely love to return and play in the new stadium.

Well, let's think about this for a minute. The number of times that Wilkerson has hit above .270 in 6 major league seasons is ZERO. His average season, based on a 550 at-bats: .250-22-69, 164 strikeouts, .805 OPS. Now lets look at Ryan Church, the guy he'd replace, based on those same 550 at-bats: .271-19-85, 118 strikeouts, .810 OPS. Wilkerson has a career .981 fielding percent in center, Church .987. Church is also two years younger than Wilkerson, and outside of running into that wall in Pittsburgh in 2005 (and his foot problem), he's been 100% healthy for the Nationals.
Bringing Wilkerson back to D.C. sounds sexy, but leaving Church in center next year makes too much sense, especially after
Kasten's
admonition about "no new free agents."
In his mailbag, Bill
Ladson
suggested
that
Cristian Guzman
is a lock to play short next year, and that
Ronnie
Belliard
deserves to be the starting 2
nd
baseman. I couldn't agree more. He also said that team management believes that
Jon

Rauch
"took his game to another level" in 2007, placing
Chad

Cordero
firmly on the trading block yet again.
Rauch
had a 3.61 ERA in 2007, allowing 1.09 base-runners per inning. He struck out 71 in 87 innings.
Cordero's
ERA was 3.36 but allowed 1.38 base-runners per inning.
Cordero
struck out 62 in 75 innings. I don't think there is much difference between the two.
Cordero
allows many more base-runners, but then strands many more as well. But if the two pitchers are "6's," then it makes sense to trade
Cordero
and move
Rauch
to the closer position.
Luis Ayala
could easily take over the role of 8
th
inning setup man, with the 7
th
being handled by any of the other solid relievers, i.e.,
Chris Schroeder, Jesus

Colome

, Saul Rivera, Jonathan

Albaladejo
, etc.
I'll tell you one thing. If Omar
Minaya
thought Chad
Cordero's
price was high in July, imagine what it'll be now that the
Mets
tanked in the last week of the season, mostly due to it's poor 'pen. Chad
Cordero
in the 8
th
, and Billy Wagner in the 9
th
. Nothing wrong with that, except the
Naionals
would have to face them many, many times during the season.
So if Chad
Cordero
is available to trade, and if
Felipe Lopez
has worn out his welcome here in Washington and is also available, then I could see a block-buster trade happening that would send the two of them, plus a Lake Monster starter, maybe even one of our spare first baseman, for a slugger or a top-of-the-rotation pitcher. The Nationals wouldn't miss any of those players, and could get a difference maker in return.
Could happen. I'm just
sayin
' .....
By the way, has anyone heard if any of the team's coaching staff won't be returning next year? There was supposed to be an announcement on the last day of the season. I vote to keep them all; much to be said about continuity. Lenny Harris and Tim
Tolman
, the two "iffy" guys, should stay. There; I said so.
Most of us had hoped that the Nationals would have a new uniform in time for the new stadium. Though the deadline has long since past for requesting it, I had hoped that it was kept quiet and the team would surprise us come spring. Nope. It's now official; the only difference will be a new patch on the arm. And that's too bad. I love everything about the uniform except the way "NationalS" appears across the chest. I blogged in 2004 that the uniform was "temporary," designed to be used until the new owners took over and made the team over in their image. 2008 would have been the ideal season to do that.
The 2007 division winners averaged about 62 wins from their starting rotations, and every team but the Phillies had at least one guy in the 18-20 win range. Conversely, the Washington Nationals had a total of 40 wins from their (many) starters.

I think we can count on Shawn Hill, Jason Bergman and Matt Chico to lead the staff next year. However, I think it would be folly to count on them winning any more than 39 wins combined (an average of 13 each). Had they remained healthy in 2007, the three - assuming a full season of starts - would have won about 22 games. To get close to contention, the other two guys in the rotation - whoever they may be - would both have to average about 10 wins a piece. About the only guy from 2007 who might do that is Tim Redding. The Nationals, then, would have to find a stud capable of winning 15+ games (plus one big bat for the middle of the lineup) to be able to stay in contention through September.
Can it happen? The stars would have to align "just so," but yes, it could. Will it?
Not a chance.
Jason Bay
just might be available this off season. With manager
Ji
m Tracy
being fired, GM Neal Huntington may be anxious for some immediate changes, and Bay's
.247-21-74
is far removed from his .290-35-100 '
esque
seasons in 2005 and 2006. He still has two more seasons
remaining on his contract, though the amounts
($5.7 million in '08, $7.5 million in '09)
are certainly not overwhelming, even for the penny-poor Pirates. In fact, Bay's contract calls for him to receive just $200,000 more than
Austin

Kearns
over the next two years.
The problem with Bay is that he'd be another corner outfielder on a team already loaded with corner outfielders. What they need is a
center fielder.
I'm not sure how the Nationals would be able to play
Wily Mo Pena
, Bay
and
Austin
Kearns
at the same time. And the Nationals would almost certainly have to trade their only real center fielder, Ryan Church, as part of a deal (that would have to include a top minor
leaguer
as well as a mid-level player).
Was Bay's decline in 2007 an
aberration
? Probably. He had arthroscopic knee surgery last November and may not have been able to place his weight on the knee while swinging.
However
, he said in Spring Training that he would be ready to go by opening day, and I can't find any mention of his knee during the season.
Adam Dunn would cost $13 million a year or so in a "pick up the option and then make a trade" deal with the Reds, so Bay is obviously the better deal. I just don't know if the Pirates would be willing to deal him at that price.
The Nationals and
Mets
were much closer to a
Phillip

Humber
for
Chad

Cordero
deal last July 31st than I ever realized. An hour and a half before the trading deadline, Peter
Gammons
blogged that the deal was probably not going to get done "straight up," that the
Mets
(from the Nationals perspective) needed to add another player. Of course, that never happened because the
Mets
see
The Chief
in a setup role. The
Metssox
blog said that the Nationals were interested in
Humber
and
Lastings
Milledge
( I don't know about that -- that's just
too much
for
Cordero
).
Is
Humber
a second tier prospect as
Gammons
suggested? Yeah, I think so. He has a minor league career record of 18-19, 4.11, averaging 1.2 base runners per inning and almost 8 strikeouts and 3 walks per 9 innings. As pitching deprived as the Nationals are, I doubt
Humber
was the answer to the Nationals' rotational woes.
So what should we make of
Garrett
Mock's
problems the past couple of years? Mock, 24, was the Diamond
backs' #9 prospect in 2006 (Matt Chico was #11). After a 19-9, 3.62 start in his first three years in the minors, Mock has run into trouble. In 2006, splitting time with 'AA' Tennessee and Harrisburg, Mock went 4-12, 5.23. To be fair, his knee was bothering him (a tear of the patella tendon), a problem he had repaired this off season. He didn't show much in his first two stints in the
GCL
and at Potomac, and really looked bad in 11 starts for the Senators. Mock went 1-5, 5.79 in 51 innings, allowing a ridiculous 12 hits and 5 walks per 9 innings.
The surgery occurred September 2nd, and Mock was supposed to be ready to go come spring. He still complained of soreness, however, and was held out for the first part of the year. It was his left knee, his "landing" leg, so I can understand the poor statistics if it was still sore during the season. But should it have been sore a year after arthroscopic surgery?
I think Mock for
Livan
straight up is going to end up looking pretty good, especially a decade or so from now. But if Mock can regain his form and join Chico in the rotation ... well now ... that
wouldbe
just sweet, wouldn't it?
Comments:
Farid,
Nice job getting those Wilky/Church stats for comparison. Given those numbers, it would seem pointless to get rid of Church and replace him with Wilkerson. Although, I must admit that I'm a Wilky fan, and will always have a soft spot for him as the original "face of the franchise" in 2005.
Thanks Mike, and I have to admit, I was warm to the idea of bringing Wilky back -- that is -- until I saw the side-by-side stats.
Church is better, and cheaper, and still has time to get better.
Post a Comment
Links to this post:
<< Home