WILY MO? I DON'T KNOW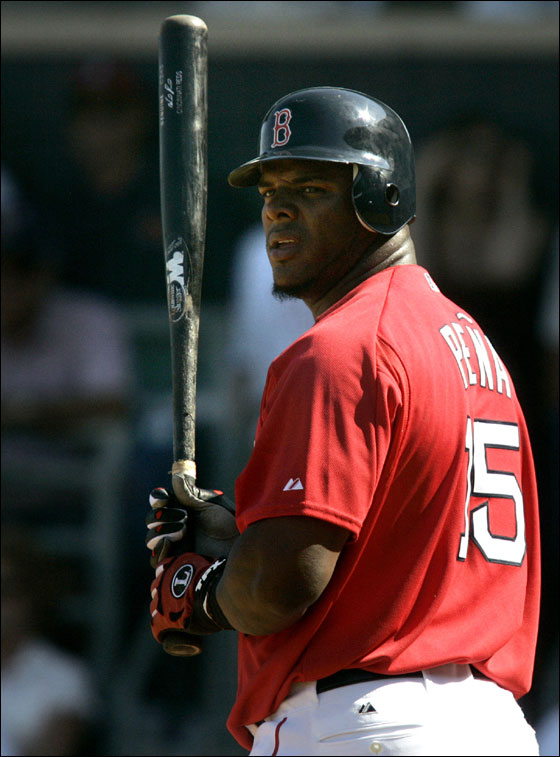 [August 17th] -- The Nationals just announced that they have traded for Red Sox outfielder Wily Mo Pena for the proverbial player to be named later.
As usual, I don't know how I feel when Jimbo brings in another one of his old Reds' pieces form the old days. No doubt, a focused and healthy Wily Mo Pena can do a lot for the Nationals.
I'm just not entirely sure the team still needs to be collecting talented players who are not performing.
Manny Acta has announced that Pena will platoon with Ryan Church in left field, at least for the time being. At first blush, this move makes sense. Pena has a career .248 batting average vs. lefties, .271 vs. righties. Though Ryan Church has hit both well during his career, he's having trouble this year against lefties. I think Church has proven that he's not an everyday player, I'd rather see him platoon with Austin Kearns than Pena. Kearns hits .253 vs righties, .295 against lefties.
Kearns has proven he's not the electric bat all of us thought he would be in the outfield. Church has proven the same thing. Pena, on the other hand, has proven nothing yet. Why not platoon Church and Kearns, leave Nook Logan in center (until the end of the year at least) and let Pena do his thing in left for the last six weeks of the year.
Comments:
Personally, I would platoon Kearns and Pena rather than Kearns and Church. Sure, Church isn't the big power bat we would like to see in the OF, but he IS the best OF hitter we have. Kearns is just horrible, as far as I can tell. It really bums me out that we keep signing these Cincinnati guys with their Great American SmallPark statistics. A two year old could hit a homerun every three at bats there! Jeez!
Post a Comment
Links to this post:
<< Home