OHKA OFFERED DEAL, NATS GET RULE 5 STEAL
December 8th] -- With all the fanfare they could muster, the Washington Nationals announced that:
they have made an offer to Tomo Ohka.
Earth shattering.
Ohka's agent, who called Jim Bowden three weeks ago to tell him that Ohka wants to come back to D.C., told reporters that the deal is "below market value." That said, talks are continuing.
I am all for bringing Ohka back. If healthy, Manny Acta need only wind him up and point him in the general direction of the mound; he'll take care of the rest. Past history indicates that he would end the year somewhere around 12-11, 4.20 -- solid numbers from a solid pitcher. Since he became a regular starter in 2001, Ohka has a 41-41, 3.92 career record. He's only thirty, so a three year contract wouldn't be out of the question. The question that begs to be asked, however, is this:
Is the contract offer below
real market value or the inflated market that is seeing .500 pitchers like Gil Meche earn $11 million dollars a year?
All of you know that I've been preaching a policy of trading "veterans for pick
s" for months now, and no, Ohka doesn't qualify as a sensible signing because he won't be around when the team begins to become competitive. But the youngsters -- Shawn Hill, Beltran Perez, Mike O'Connor -- need a veteran influence in the rotation. Remember, our "ace," John Patterson, is almost as green as that gaggle of rookies. Ohka is a mechanically sound pitcher with a 92+ mph fastball that has good movement. He doesn't walk a lot of batters, and is fairly economical with his pitches. In this regard, Ohka has value beyond his pitching ability.
I'd offer Ohka anything up do a 3 year/$15 million dollar contract, but no more. That he hasn't signed with anyone yet tells me that there isn't a great amount of interest for the former National. A rotation that begins with Jon Patterson, Tomo Ohka and Jon Rauch wouldn't be too terribly bad. The Nationals would then have to hope that they could find two more starters from within the organization. I could live with that pitching staff heading into the season opener.
Update @ 3:00 p.m. -- Rotoworld.com is reporting that Ohka is probably looking for a deal in the $4 million dollar range. If Bowden is looking for a "one-year wonder," then a $4 million dollar contract doesn't make much sense. But if he's trying to stabilize the pitching staff, then $4-5 million - even over three years - is a doable number.
Mets on Flores: Oops!
How much did Omar Minaya like catcher Jesus Flores? Enough to consider him the heir apparent for current backstop Paul Lo Duca. One Mets' site said that Minaya knew
he was taking a chance on leaving Flores unprotected, but he didn't think any team would be willing to leave him on the major league roster for the entire season, a requirement of the Rule 5 draft (unless the Nats can make up a believable disease or injury).
From "Metscentric:"
"The Mets also lost possibly their best catching prospect in Jesus Flores who was taken by Washington in the Rule 5 Draft. Flores is a few years away and the Mets are probably expecting Francisco Pena to eventually overtake him as a prospect. They may even get Flores back, but I still think it was a mistake to leave him exposed when they had roster space."
And this from the draft blog at "Baseball America:"
""The best prospects lost in the major league phase include catcher Jesus Flores from the Mets to the Nationals, where new manager Manny Acta--who came over from the Mets--should be familiar with Flores. Still, it's hard to imagine a catcher jumping from high Class A to stick in the major leagues. Then again, these are the Nationals."

Flores' offensive prowess wasn't limited to just his home runs (which led the Florida State League). He was 13th in runs scored, 30th in hits, 8th in doubles, 14th in RBI's, 9th in total bases and 10th in OPS. And remember, he's just 21.
Following the draft, MLB.com's Jonathan Mayo said he and co-host Lisa Winston were "very happy" with the Nationals' pick of Flores. Winston said she was "very surprised" that the Mets left the young catcher unprotected, and both underscored their belief that the Nationals drafted their "catcher of the future." You have to give Jim Bowden credit, he's finding -- and acquiring -- some real top-flight talent using less than typical means.
A quick review of team blogs indicate that only a few drafted players causes any kind of a stir -- Jesus Flores was by far the most written about. That tells me that Flores was known to the Mets' fans, and was being counted on in the future. Fans seem less mad at Minaya for leaving him unprotected as they are at Jim Bowden, who they consider "insane" for taking such a young player with the intent of keeping him on the major league roster all season.
(Remember that Harmon Killebrew signed for a huge bonus in 1954 as an 18 year old and was forced to stay on the major league roster for two years, playing only 47 games.)
I think this guy is a steal.
I'm not sure what to think about Levale Speigner. Speigner is fairly old (26) for never getting an opportunity to pitch in a major league game. That said, he has a solid 23-23, 3.29 career minor league record. He's allowed less than 11 base runner per 9 innings while striking out almost 7 per 9 innings. All of his stats are average to above-average, and none of them are glaringly deficient.
"Taylor's Twins Talk" says this about Speigner:
"Speigner was a starter for most of 2005 in New Britain, but was converted to relief for the 2006 season. In 40 appearances with New Britain, he posted a 3.26 ERA before being promoted to Rochesterwherehe
re he made 9 appearances and struggled, posting 97 ERA. I didn't think that his numbers made Speigner an attractive enough candidate for a team to have on the roster for a full season, and apparently neither did the Twins. However, Washington is a good fit, since they have a horrendous team with numerous holes, and can probably afford to keep a guy like Speigner on the roster for a season. Don't expect him to make more than 15-20 appearances in 2007 for Washington, before being shipped off to AAA in 2008 for more seasoning."
The Nationals don't need relief pitchers. look for Speigner to be given an opportunity to earn a starting role, though I don't see him having much chance in that regard. Unlike Flores, who has a bright future, Speigner seems to be just another pitcher. This pick doesn't make a lot of sense to me.
Hard as he tried, Jim Bowden didn't make a splash during the meetings, something I'm sure he's trying to rectify even as we speak. I'm 100% sure that Ryan Church will be traded soon, and I'm 100% sure that the Nationals will get nowhere near equal dollar value for him. The last time Bowden made a deal out of anger, he traded Tomo Ohka for Junior Spivey.
I think I made my point.
On Being Jose Vidro:
Reports have indicated that only one team had any real interest in Jose Vidro. A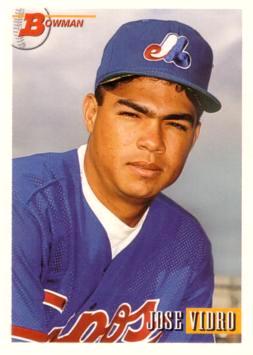 n American League team was looking for Vidro to play some second, some first and DH when needed. I'm afraid that Vidro has no value, and Bowden is going to have to pay half of his salary for the honor of receiving in return a couple of meaningless prospects.
Overall, I'm surpriseded that Jim Bowden couldn't get something done during the meetings. Perhaps Stan Kasten has helped him mature in that regard -- maybe he now understand that trading for the sake of trading helps no one. Several GM's whined that Bowden was asking
"way too much"
for his players. Is that bad? To be fair to Jimbo, his last two major trades (Soriano, Kearns/Lopez) were absolute steals for the Nationals. Compare them to his two big trades in 2005 (Guillen, Ohka), which were steals for the other team. Jimbo is now thinking before pulling the trigger. He's always been good at evaluating talent, and if he can now combine that talent with shrewdness, he just make a decent general manager after all.
Comments:
Farid: When I read last night that Ohka was offered a contract by The Nats, I thought of you and your post with the MegaPhone Guy declaring Ohka interested in coming back to Washington--right away. During the glorious first half of 2005--Tomo Ohka was very decent--always around the plate, may not have been too agressive at times, but was an effective hurler. Frank got into one of his huff and puffs--because Robinson wanted Tomo to pitch his way, not necessarily the way Ohka was accustomed too--So they fought--Hard. And, it was flat out stupid what Jimbo traded for in dumping him. Even if he never had any previous experience with the Franchise, he's the exact type player Washington is looking for over the next few weeks--including the upcoming non-tenders. He's not going to get a 3 year contract from The Nats, though--no more than two--most likely one.
At this point, Jimbo is better off keeping Vidro, at least through Spring Training--as a potential backup for an injured Nick Johnson--remember Broadway is also coming off surgery-and if Jose comes on strong he brings back more later in trade.
The 2007 Team Salary will not be much anyway--Vidro's salary is not going to affect operations in any way--and they know that, clearly.
Post a Comment
Links to this post:
<< Home