ZIM-ZAM-ZOOM! RYAN HITS CENTURY MARK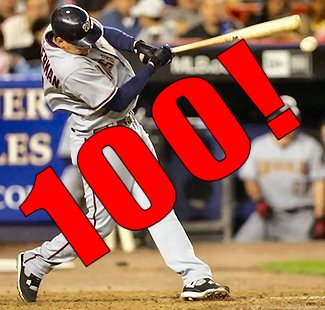 [September 23rd] -- Simply amazing.
When Ryan Zimmerman spun a outside slider from "El Duque" past Carlos Delgado and Jose Valentin into right field, the affable 21 year old did something that only two other National Leaguers have done since the Truman administration: drive in more than 100 RBI's. He joined Mike Piazza and Albert Pujols as the only recent rookies to hit the century mark in runs-batted-in.
Hits, and runs-batted-in, have been hard to come by in the last month. Heading into August, Zimmerman was at a season high .293 and was on pace to hit 23 home runs and 113 RBI's. Pitchers have adjusted, however, and the summer's heat have taken a toll 0n his performance. And while Zimmerman has cooled, Florida's Dan Uggla has heated up and will be the likely winner of the 2006 rookie-of-the-year award.
It doesn't matter. Zimmerman, five years younger than Uggla and with less than a 10th of his minor league experience, should be judged not by what others have done, but rather by what he has accomplished. Jim Bowden and Frank Robinson shied away from predicting how their new third baseman might fare this season, but when pressed, Robinson and Bowden both suggested that a .260-12-60 season would be a good start to Zimmerman's career. It was his defense, not his offense, that garnered him the starting job last fall. They were not the only ones who got Zimmerman's rookie year wrong. In a November 2005 story, I predicted that Zimmerman would bat .263-16-69.
What does the future look like for the Nationals' young star? Well, the doubles column is usually a good indicator of things to come. Young sluggers usually have a disproportionate number of doubles -- basically, home runs that haven't "grown up" yet. Dan Uggla, for example, currently has 26 doubles and 26 home runs; his age and experience has already moved all those "uber-doubles" into the home run column. Zimmerman has 42 doubles and 19 home runs thus far. If he were to hit the same number of doubles as Uggla, for example, the remaining 16 doubles would become home runs, giving him 35 for the year. Convoluted? Sure, but it works. Willie Mays hit 33 doubles and 41 homers in 1954. The next season, he hit 15 fewer doubles but 10 more home runs.
What does the future hold in store for Ryan Zimmerman? I think it's very safe to say that he'll have Chipper Jones type numbers ( .300 - 33 - 110) for many years to come. Because of his age and maturity, he might end his career with some very special numbers. If he were to average 31 homers a year from now until he is 37 (a fair "end of career" age), he'll end up with 515 home runs (including 19 from this year).
Congratulations, Ryan Zimmerman. Frank Howard is considered the modern day icon of baseball in Washington, and he played here for only seven years. If Zimmerman plays here for the majority of his career, he will become "Mr. Baseball" in D.C.
Comments:
This is more of a comment on the Columbus Clippers contract:
IMO we chose them because they are getting a new stadium and all that money the Yankees paid them means their facilities are top-notch.
Post a Comment
Links to this post:
<< Home