THIS WEEKEND SEEMED V-E-R-Y FAMILIAR ...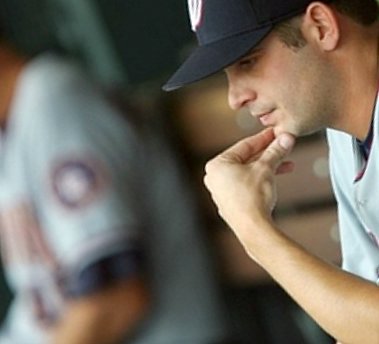 [September 11th] -- Now, don't get your dander up. Bad teams win five games in a row all the time. Then, they lose four in a row, sometimes more. Sure, the Nationals looked really good for most of last week, but there really isn't any doubt that they played above their heads, is there? We have to consider, then, that the Rockies' series was just part of the evening-out process that had to occur. I mean, it just had to.
At this stage of the season, I don't even look at wins or losses -- the subtext of the game holds more clues for next season then the team's record does. One thing I noticed: The Washington Nationals aren't quitters. They're just bad. In each of the four games, the Nats got down early (and by a lot), only to come back and tie the game, then lost in the later innings. Sunday was a perfect example. Down 7-2, they game all the way back to tie the game. They tied it again at 8 before losing 13-8. It's not that they aren't trying, it's that they suck. But, we already knew that. Right?
Every time I think Ryan Zimmerman is about to fade into oblivion, he shows me that he's not going anywhere. After a few hitless games, a couple of one-hit games, and three errors in two games, he came back to go 4-5 with two RBI's (his third 4 hit game of the season, each coming after slumps). He now has 96 ribbies for the year, and will probably finish the year with 110 or so RBI's, one of the highest totals for a rookie in fifty years. Jeff Huson, one of the Rockies' broadcasters, said on Saturday after Zim made his 3rd error of the series, "Folks if this is your first time you've watched Ryan Zimmerman play, I need to tell you that this is uncharacteristic -- he's probably right now the best fielding 3rd baseman in the National League, and he's only 21." I have no doubt that he'll finish in the top three for the Gold Glove award, and, even with those three errors, still has the second highest fielding percent in the league. I think we expected that. But what about his offense? He's probably going to end the season somewhere around .285-21-110 with 45 doubles and 13 stolen bases. Most bloggers (and the Nationals' front office) predicted numbers in the neighborhood of .260-12-60 for 2006. Why has he done so well? I don't think I've ever seen a player as young as Zimmerman who made adjustments so quickly. Early in the season, he was striking out at-bat after at-bat on curve balls down and away. He kept trying to pull the ball with no success. After a few games, Zimmerman began to drive that ball to right field. A few games later, pitchers found another hole, pitches high and inside. He went hitless for a few games before learning how to pull that ball down the line for a double. The pitchers make a chance, he corrects. They make another change, Zimmerman makes another correction. Amazing.
Nook Logan. Eeech. Nook Logan. Just when I thought he'd slowly disappear into the cornfield, he slugs a home run and a triple, driving in his first three runs of the season. His average is now up to .290. The last thing I want is for this Endy Chavez wanna-be to show any talent this month. The thought of him being named the de facto centerfielder before the season even ends makes my brain hurt. The front office doesn't need a reason to jettison Ryan Church right now -- give them a reason and they'll be downright giddy as they trade him for yet another "toolsy" outfielder. Why, perhaps they'll even move him to the Mets for .... dare I say it .... Endy Chavez.
Sorry, that wasn't funny.
My 9/11 memories: It's been five years now since that day that changed our lives forever, and I can remember it as if it were yesterday. It was my day off, and I had jumped in my car to drive my daughter to her bus stop down the street. I turned on the radio and heard an announcer say, in a still calm voice, "Reports are coming in that a small, piper cub plane has accidently crashed into one of the World Trade Towers. On to other news...." It was almost like, no big deal. I ran to the corner to buy a pop, and got home and flipped on Fox News. Although the gash on the tower was huge, they were still reporting that eye-witnesses said it was a small "commuter" plane that crashed into the building. Moments later, while the announcer was calling it a "tragic accident," the second plane hit the other tower. Strangely, I watched it happen, but the announcer wasn't aware of the second plane, and kept droning on about a small plane and its tragic end. It took him several minutes to realize what happened and report on it. I never moved from the TV that day, and I hope that this, the 5th anniversary of the tragedy, will be the first that I will shed no tears.
Comments:
Farid: Thanks for your comments about Frank Howard on my blog. I can't ever say enough about Hondo!! He was EVERYTHING to the Washington Senators and me as I was growing up in Alexandria. Fortunately, I have had the opportunity to meet him about 10 different times over the course of my adult life, once even had lunch with him at his house in Fairfax, Virginia. Terrific and humble man. Still takes the METRO to RFK for Nationals games in 2006. Tries not to be noticed, but if you are any age close to ours--you could NEVER MISS HIM and really APRECIATE what he did for baseball in the Nation's Capital!!
Post a Comment
<< Home