RASNER POSTER BOY FOR BOWDEN'S STUPIDITY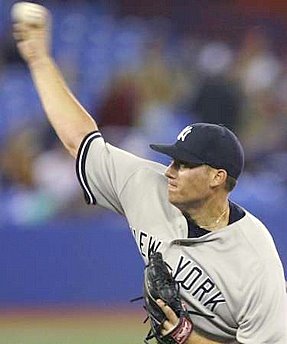 [September 19th] -- What was Jim Bowden thinking?
Now, I've tried to give Jim Bowden the benefit of the doubt when it comes to his questionable [read: crappy] player personnel moves. He knows a lot more about baseball and running a franchise than I do. Making a trade is all about taking a chance and Jimbo does takes chances. I'd much rather have a GM who takes risks versus guys who are afraid to shuffle the roster when the situation calls for it (like Bill Stoneman in Los Angeles and former Devil Rays' GM Chuck LaMar). The Jose Guillen trade is a perfect example. When Bowden traded 4th outfielder Juan Rivera and backup short stop Maicir Izturis to the Angels for the slugging Guillen, every report I read touted the deal as a steal for the Nationals. It was a steal, all right, but to the benefit of the Angels. Rivera is batting .298-22-77 and is now playing ahead of former all-star Garrett Anderson. Izturis, platooning at short, is hitting near .300 and is showing some power. Jose Guillen, however, is likely done in D.C. I don't have a problem with the trade, because it made sense at the time, and all indicators pointed to Guillen being the team's clean-up hitter for the next decade while Rivera and Izturis were journeyman at best.
That it didn't work doesn't matter -- it was based on sound baseball judgment.
No, making righteous trades aren't Bowden's downfall. It's his ongoing inability to judge young talent that makes my head hurt. I was watching the Nationals' 6-1 loss on TBS last night, and Chip Carey and Pete Van Wieren had some very nice things to say about the Nationals. Van Wieren believes that the Nats' starting lineup and bullpen are both set and solid (he especially likes the bullpen), but without any decent starting pitchers, he believes that the team has no hope of playing anywhere near .500 ball next year. Since the day he took over as the team's GM, Bowden has used "Pitching, pitching pitching" and "You can never have enough pitching" as his personal catch phrases. Those are great soundbites, but they are just words in a sentence unless he walks-the-walk and talks-the-talk. The Nationals likely have the worst starting rotation in the major leagues today, yet, had Bowden been judicious with his roster moves, the team might be at least within shouting distance of .500.
Bowden released Claudio Vargas last summer after just three ineffective starts. He was promptly picked up by the Diamondbacks and went 9-6 for Arizona. This year, Vargas is the D-backs' #3 starter and has an 11-9 record going into the season's final two weeks. Tomo Ohka, traded because he "groused" at Frank Robinson last year, went 11-9 for Milwaukee after the trade. He has been hurt much of this year, but Ohka's career stats show that he's a lock to win 10-12 games every season. The GM that puts pitching before all else traded Ohka for Junior Spivey, who spent the 2006 in the Cardinals' minor league system. Two pitchers -- both succesful with their new teams -- and the Nationals have nothing to show for them.
The biggest slap in the face,
however, has to be Bowden's decision to waive pitcher Darrell Rasner just before the start of spring training. Rasner had a solid 6-7, 3.59 record for Harrisburg in 2005, but to Bowden, that just wasn't good enough. "It's not like he's a major league prospect" was Bowden's answer to his seemingly senseless move. Bowden jettisoned Rasner because he had to make room on the 40 man roster for (as my memory serves) one of the many veteran infielders he signed over the winter. Bad move. Rasner went 4-0, 2.76 at 'AAA' Columbus, earning him a call-up to New York after a stint on the disabled list. The pitcher who Bowden said wasn't a "prospect" won another start for New York last night, beating Toronto 6-3. He's now 3-0, 2.04 for the Yankees and will probably keep his turn in the rotation when the post season begins.
This is why Bowden drives me crazy. He's great at making trades, but seems to have no clue as to how to manage his 40 man roster. How much better would the Nationals be if they had Vargas, Ohka and Rasner in the starting rotation? I'm not suggesting that Vargas and Ohka would have helped propel the Nats into the playoffs, but they certainly would have helped the team more than Pedro Astascio and Ramon Ortiz did. The Rasner move was classic Bowden. He looks like he's going to become a solid major league starter, capable of winning 12-15 games a year. Only 25, Rasner will still be pitching when the Nationals celebrate their 10th anniverary in Washington. He wasn't traded, and he wasn't released because he couldn't pitch. He was released because Bowden signed one too many over-aged middle infielders and he had to get rid of someone. But why Rasner? There were other players on the roster who had no hope of becoming a major leaguer -- guys like Bernie Castro -- but they remained on the roster while Rasner was sent packing. It seems as though he just picked a name at Random, and then said, "Ah, he's not a major league prospect."
This October, there is a very good chance that a guy that Jim Bowden said wasn't a major league prospect will be pitching in the World Series. Isn't it bad enough that the New York Yankees have an unlimited bankroll -- that they can sign anyone they want to -- without teams like the Washington Nationals giving them starting pitchers for nothing?
Comments:
Don't sell yourself short, Farid. Given the same amount of info available, you or most of the Natosphere could make better personnel decisions than Bowden. You'd most likely exhibit a more professional public persona than Bowden as well.
Post a Comment
<< Home