MEET: JOSH LABANDEIRA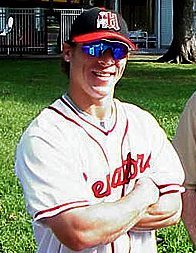 [September 15th] -- If, as it is suggested, that there are only a handful of players in the Nationals' minor league system with enough talent to make it to the major leagues, then just what's going to happen to those players who are filling out the 140+ uniforms in New Orleans, Harrisburg, Potomac, Savannah and Vermont?
This is the first in a series that takes a look at Nats' minor leaguers who have been branded as "organizational" players, athletes with little-to-no chance of having any kind of career in the major leagues.
What does a marginal player do when trying to keep up with players both younger and better than him? Why, he uses drugs, of course. This year, many minor leaguers have been suspended for 50 games as baseball finally began to crack down on illegal drug use. Josh Labandeira, however, was suspended last year, before mandatory testing became common place. His suspension was for only 15 games -- barely a slap on the wrist -- and was back playing in a couple of weeks. At the time, getting caught taking amphetamines was only a mild embarrassment, something that didn't effect a player's chances of making it to the major leagues. However, with MLB's "crackdown," times have changed.
Labandeira is a 27 year old middle infielder from Tulare, California. He attended Fresno State, batting .345 with 17 homers during his two years with the Bull Dogs. In 2001, he was drafted in the 6th round by the Expos / Nationals. He hit .286 while playing for Clinton in his first year and .324 with Brevard County of the Florida State League in 2003. He faltered during his mid-season call-up to 'AA' Harrisburg though, hitting only .239 with a sickly .636 OPS. He returned to Harrisburg in 2004, and regained his stroke, batting .270 and showing some power, hitting 9 home runs while crafting a .357 OBP. He was September call-up that year, going 0-14 (ouch!) in seven games with Montreal. An MRI at season's end showed a 50% tear in his shoulder, so I guess we shouldn't snicker too much about the 0-14 skein. Like we could have done better, right? He returned to Harrisburg in 2005 and batted .269 with a .380 OBP. He continued his good hitting in 2006, batting .276-3-44 with 11 stolen bases and a .351 OBP with the Zephyrs of the Pacific Coast League.
That injury came at a particularly bad time for Labandeira. Shortly after taking over as the Nationals' general manager, Jim Bowden said he was looking for a backup infielder to work with Jamey Carroll in backing up Jose Vidro and Cristian Guzman, and the thought that Labandeira -- if healthy -- could be that man. It was acknowledged at that time that the kid had the strongest infield arm in the system, though he was committing too many errors, but Frank Robinson said that with experience, he could be a "nifty little shortstop." That said, shortly after recuperating form his surgery, he had to go pee in a cup.
Man, bad timing dude. The good news was that his suspension was related to amphetamines, and not steroids (he was trying to stay awake, not bulk up illegally).
Frank Robinson said that Labandeira's work ethic is "as good as it gets," and that his defense has the potential to be very special. The fans in the Eastern League seemed to agree, voting him it's best defensive player in 2004. He was assigned to the Arizona Fall League that year, a sure sign that the Nationals believed he was one of the team's top prospects. Following his stint in the AFL, Labandeira was transferred to the team's 40 man roster.
Somewhere between the damaged shoulder and the drug suspension, Josh Labandeira's star has lost most of it's luster. He still hustles just like Pete Rose and he's cut down his errors and raised his on-base percentage. He's even learned to play several new positions. But it's not enough. His age, his injury, his past trouble with amphetamines have all combined to make a "prospect" an organizational player. When asked to compare Labandeira with someone on his roster a couple of years ago, Frank Robinson thought for a moment and said, "Jamey Carroll." Sadly, players like Carroll (and Labandeira) don't seem to be welcome here these days. You gotta be toolsy.
Josh Labandeira isn't toolsy. He's just a player getting older every year -- a guy who deserves a chance to show what he can do.
I think the term "fish or cut bait" would work rather well here.
Comments:
Very interesting, great article. Sadly, I had never heard of Josh Labandeira, but now I have, so thanks.
Post a Comment
<< Home